Save $30 when you Spend $100 or More at Petcetera (Members Only)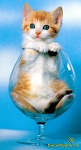 If you aren't a members at Petcetera, now would be the perfect time to sign up. Until Saturday June 24th, save $30 when you spend $100 or more in-store. It does seem like a lot of money to spend all at once, but it's a good chance to stock up on animal food for your four-legged (or two-legged) friends, and most animal food doesn't perish quickly. Animal food is always going to be a necessity, so why not bulk up now so you can save more in the long run? Toys are always a great idea as well!
This printable coupon isn't available for services, but is good for sale and clearance items. It does say that you can't combine this coupon with other ones, but it doesn't say you can't use the Petcetera member discount with it. Just image saving $40 in total; how sweet would that be? Try it and see.